BFOU (c) S4/S8
DownloadDatasheet PDF BFOU (c) S4/S8 Fire resistant offshore instrumentation 250 V collectively screened INSTRUMENTATION 250V Based on: IEC 60092-376 /... read more
Description
BFOU (c) S4/S8
Fire resistant offshore instrumentation 250 V collectively screened
INSTRUMENTATION 250V
Based on: IEC 60092-376 / NEK TS 606
DESIGN
Conductor
Flexible conductor tinned copper, based on IEC 60228.

Insulation
Mica Tape + Halogen Free Ethylene propylene, type EPR according to IEC 60092-351. The standard identification is the following per pair:
1 x ……………………. blue
2 x ……………………. black
Each pair is numbered.
3 x ……………………. brown (for triads)

Screen
Collective polyester/copper tape with tinned copper drain wire.

Bedding
Halogen Free compound.

Braid / Armour
Tinned copper wire braid.

Outer sheath
Mud resistant thermosetting compound, grey colour, low smoke and halogen free, type SHF MUD.
APPLICATIONS
Fire resistant offshore instrumentation 250 V collectively screened cables. These fire re-sistant cable is specially designed to transmit data in the presence of fire. In case of fire, they do not emit toxic or corrosive gases, thereby protecting public health and avoiding any possible damage to electronic equipment. They are also heavy duty, mud resistant cables for Offshore applications. Oil resistant, halogen free, flame and fire non propaga-tors. Based on IEC 60092-376 and NEK TS 606. Suitable for fixed installations in vessels and oil rigs, assuring the highest level of safety, security and reliability.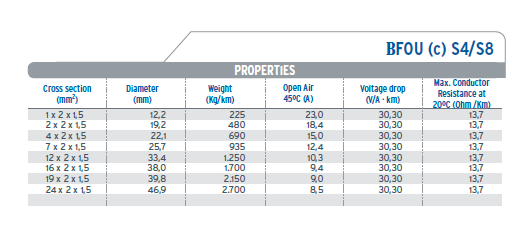 Related Products