RFOU VFD EMC
DownloadDatasheet PDF RFOU VFD EMC Offshore power VDF EMC LOW VOLTAGE 0,6/1kV Based on: IEC 60092-353 / NEK TS 606... read more
Description
RFOU VFD EMC
Offshore power VDF EMC
LOW VOLTAGE 0,6/1kV
Based on: IEC 60092-353 / NEK TS 606
DESIGN
Conductor
Flexible conductor tinned copper, based on IEC 60228.
Grounding conductor
The grounding conductor is divided into three conductors; the equivalent section of the three protective conductors together is approximately 50% of the section of the phase conductor.

Insulation
Halogen Free Ethylene propylene, type EPR according to IEC 60092-351.
The standard identification is the following:
3x + 3G..……………. brown + black + grey + green/yellow (3x) (from 6 mm2 conductors)

Screen
Copper-polyester tape helically placed over the bedding. The tape serves as a screen. Over the tape there is a tinned copper braid screen. The tape and the braid act as a double screen to cut out all of the electromagnetic interference. The screen has a cover of 100% and its total section is approximately 10% of one of the conductors.

Bedding
Halogen Free compound.

Outer sheath
Mud resistant thermosetting compound, black colour, low smoke and halogen free, type SHF MUD.
APPLICATIONS
Our offshore power Variable Frequency Drive (VFD) cables have been designed for use in drive systems where variable frequency drives are used to protect equipment against the effects of electro-magnetic interference (EMI). As well as the appropiate screening the outer-sheath is based on IEC 60092-353 and NEK TS 606. Suitable for fixed installation.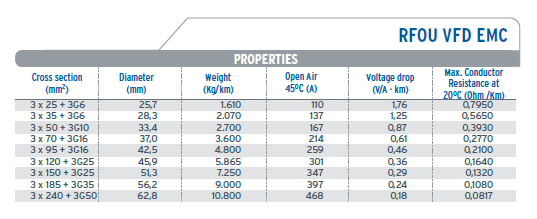 Related Products