RFOU (i) S1/S5
DownloadDatasheet PDF RFOU (i) S1/S5 Offshore instrumentation 250 V individually screened INSTRUMENTATION 250V Based on: IEC 60092-376 / NEK TS... read more
Description
RFOU (i) S1/S5
Offshore instrumentation 250 V individually screened
INSTRUMENTATION 250V
Based on: IEC 60092-376 / NEK TS 606
DESIGN
Conductor
Flexible conductor tinned copper, based on IEC 60228.
Insulation
Halogen Free Ethylene propylene, type EPR according to IEC 60092-351. The standard identification is the following per pair:
1 x ……………………. blue
2 x ……………………. black
Each pair is numbered.
3 x ……………………. brown (for triads)

Screen
Individual polyester/copper tape with tinned copper drain wire.

Bedding
Halogen Free compound.
Braid / Armour
Tinned copper wire braid.
Outer sheath
Mud resistant thermosetting compound, grey colour, low smoke and halogen free, type SHF MUD.
APPLICATIONS
Offshore instrumentation 250 V individually screened cable. Heavy duty, mud resistant, instrumentation cables for Offshore applications. Halogen free, flame and fire non propa-gator. Excellent resistance to oils, abrasion, petrochemical fluids, moisture and salt water. Based on IEC 60092-376 and NEK TS 606. These cables offer excellent performance in the harsh environments encountered offshore. Suitable for fixed installations in vessels and oil rigs.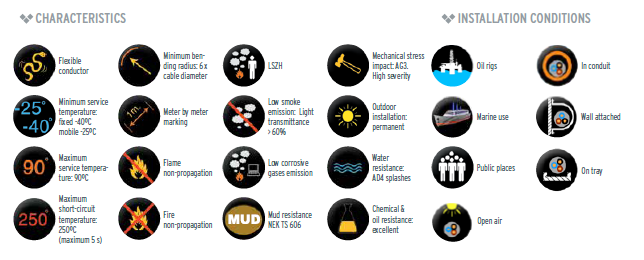 Related Products